Pasta with chicken breast and mushrooms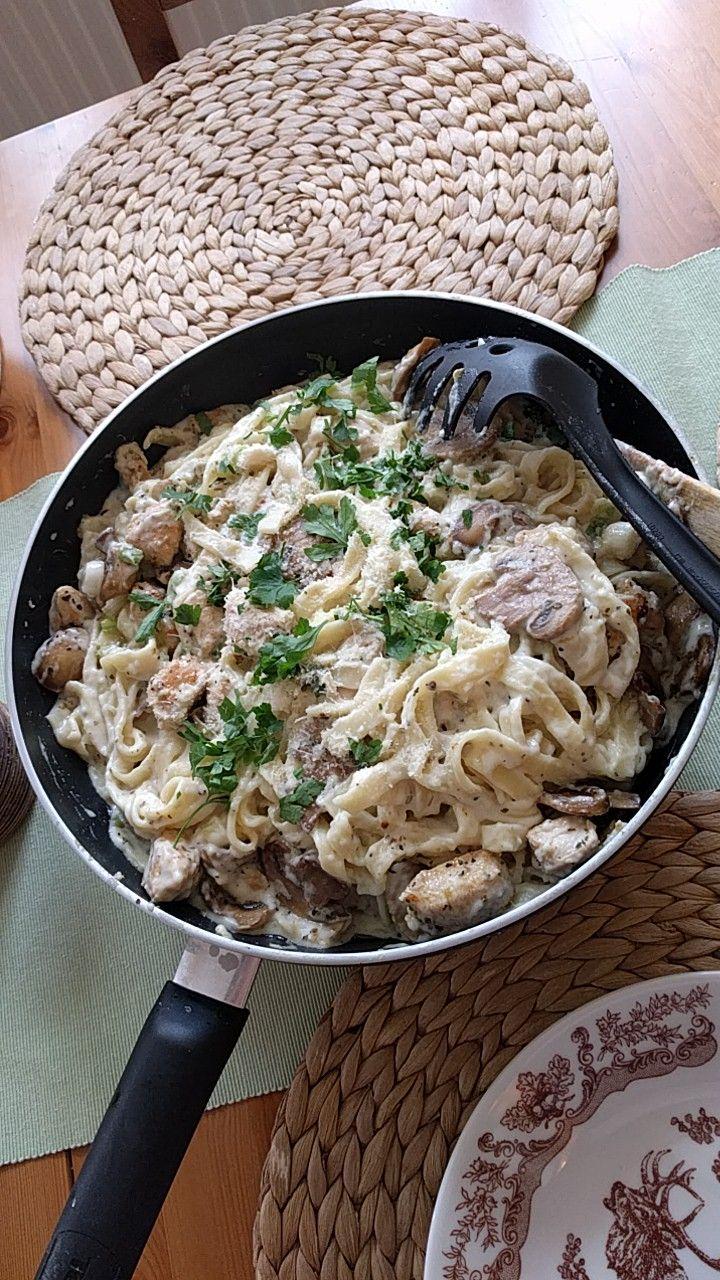 Ingredients
700 grams chicken breast, diced
500 grams pasta of your choice
2 tablespoons extra virgin olive oil
2 tablespoons butter
250 grams baby portobello mushrooms, sliced
5 cloves garlic, minced
4 large green onions, chopped
2 tsp salt and pepper to taste
2 tsp oregano
2 tsp dried basil (one tsp of salt, pepper, oregano and basil used when frying the chicken meat and making the sauce)
5 tablespoon flour
0.7l milk depending on how much sauce you want
70 grams shredded parmesan cheese
handful of fresh parsley, chopped, plus extra for garnish
Directions
Add butter to a medium hot large pan, add half the chicken meat(so the pan doesn't get crowded). Add salt, pepper, oregano and basil (0.5 tsp of each per batch) to the meat. When the meat is fully cooked, up the heat to max, it will get crunchy and brown. This requires the pan to be dry, so if you added too much butter, you might have to wait. Put the meat aside in a bowl. Repeat for the other half.
Cook pasta in salty water according to recipe or package directions. Make the sauce while the pasta cooks.
Clean any leftover meat from your pan, heat olive oil over medium heat.
Add mushrooms to oil and sauté until mushrooms have reduced in size, about 4 minutes. If the mushrooms soak up all the olive oil, add another teaspoon.
Add garlic, green onions, salt and pepper to mushrooms and stir to combine. Cook until garlic is fragrant and mushrooms have released some additional liquid, about one minute.
Add flour to saucepan and stir to incorporate all ingredients. Let cook for 30 seconds or so.
Add about 1dl of the milk and stir to break up any lumps of the mushroom and flour mixture. The milk will thicken fairly quickly; that's okay. Add the milk little by little and stir to incorporate all ingredients. Do not use more than medium heat or you will get the milk catching to the pan and burning.
Bring sauce to a simmer and cook until milk has thickened, about 5 minutes.
Add salt, pepper, oregano and basil (1 tsp of each).
Remove sauce from heat and stir in parmesan cheese. Stir in the chopped parsley.
Garnish with extra parmesan and parsley and serve immediately.